The Morris County probate lawyers and Morris County will attorneys at the Law Office of Sara Sencer McArdle, LLC, handle estate planning and probate matters for our clients. We draft wills for estates with fewer than $1 million in assets. We also guide estate administrators through the probate process and help our clients resolve estate litigation when disagreements arise.
Experienced Morris County Will Attorneys
Whether you are a new parent with young children to protect or a retiree contemplating end-of-life decisions, a great deal can be said for having a will drafted by our experienced attorneys. Wills bring families peace of mind, knowing that their wishes will be carried out when the time comes. While there are many "do-it-yourself" will kits on the market, having the benefit of our attorneys who can help you plan for any contingency is well worth the modest cost of having your will professionally drafted by our experienced Morris County Will Attorney.
Estate Administration With Help of Our Morris County Probate Lawyers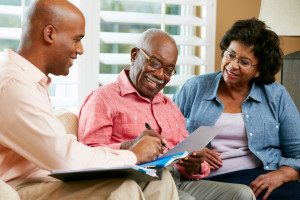 The lawyers at the Law Office of Sara Sencer McArdle, LLC, guide estate administrators through the entire probate process. Many of our clients have been with us a long time. They may have originally sought our services for a guardianship or estate plan. Now they know they can depend on us when the time comes to probate an estate.
Our probate lawyers help them through each stage of probate. This includes doing a thorough accounting of the estate's assets. It also includes totaling up all the debts owed to creditors. After debts are paid, the assets are distributed to heirs of the estate as determined by a will or by New Jersey State laws. If disagreements arise as to how the assets of an estate are distributed, our attorneys can also represent families in litigation to resolve the dispute.
Contact the Law Office of Sara Sencer McArdle, LLC
If you need estate planning or estate administration assistance, schedule a free, confidential consultation. Call our office at (973) 366-5244 or simply complete our online contact form.